Maria Olagues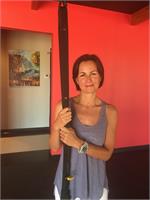 Maria Olagues instructs the following:
This is the perfect solution for those who are either brand new to exercise or brand new to TRX. Ease into it with proper form and technique and learn the BASICS!!!!




Unique to our area, TRX YOGA will combine traditional YOGA with the TRX straps to enhance your overall mobility all while challenging your balance and stability. Advanced yogis and beginners yogis with both benefit from this fun new class.




Join us for our TOP THREE picks for your fitness transformation! 20 minutes of biking, 20 minutes of TRX and 20 minutes of Yoga!